There are 3 underlying economic fundamentals that make a strong investment case for residential real estate. A city with an expanding population, a strong GDP and rising salaries as well as a shortage of appropriate housing will naturally put pressure on the housing market, causing prices and rents to rise. Let's take a look at some of the latest statistics compiled by Oxford Economics, ONS and JLL that make Manchester's investment case strong for 2022.
Manchester Overview
Greater Manchester is a metropolitan county in North West England and is home to 2,854,540 people. It includes ten metropolitan boroughs: Bolton, Bury, Oldham, Rochdale, Stockport, Tameside, Trafford, Wigan, and the cities of Salford and Manchester. It is one of the country's largest metropolitan regions, and the second-most populous area in England, outside of London as of 2021.
Due to its large population, Greater Manchester is one of the most economically diverse regions in the UK and is one of the main drivers of the northern economy. At present, there are approximately 1.4 million jobs that contribute towards Greater Manchester's GVA of GBP67.2 billion (2021). The Greater Manchester area generates nearly 40% of total output (GVA) in the North West and 19% across the North of England. Manchester, Salford and Trafford have seen the largest growth over the last 21 years, contributing 56% of Greater Manchester's GVA in 2021.
Demographics
Manchester underwent a significant transformation during the Industrial Revolution, attracting entrepreneurs and manufacturers in abundance. The population grew consistently year-on-year until the 1960s, when a number of manufacturing jobs began moving to countries with significantly lower costs. This ushered in a period of economic decline and depopulation for Manchester.
The trend persisted until the early 2000s, when a combination of natural population growth and inward migration (as a result of renewed economic growth), saw the number of residents in the area begin to rise once again. Manchester's working population has increased by 25% in the last 20 years, compared to the UK national average of 11%. Manchester City is currently the 5th most populous city in the UK, registering 558,840 residents as of 2021. Combined with Trafford and Salford, the total population for the area is expected to reach more than 1,154,970 by 2035, a 36% increase since 2000.

Economy
As a result of successful economic initiatives such as the Northern Powerhouse project, Manchester's GVA has grown by 63% since 2000, totalling GBP41.3 billion as of 2021. Following a small dip in 2021 due to the global pandemic, the economy is expected to produce GBP55.6 billion per annum by 2035. At the same time, average GVA per capita has risen 31% since 2000 and is expected to increase by a further 24%, reaching GBP48,111 by 2035.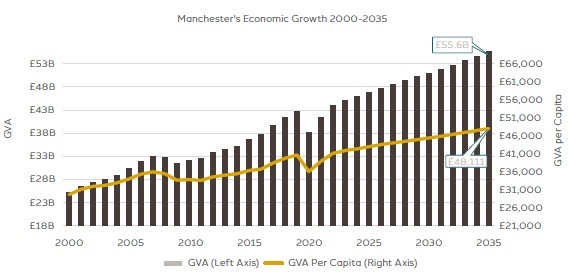 Employment & Incomes
The city of Manchester is the economic hub of the Northern Powerhouse. Residents have therefore experienced significant wealth gains, with average household disposable incomes increasing by 92% between 2001 and 2021. This trend is expected to continue, with households seeing a further 51% gain over the next 14 years.
The number of households in the city earning less than EUR35,000 per year is declining at a rapid rate. At the same time, the number of households entering the middle-and-upper-income bands is rising dramatically. By 2035, the number of households in the higher income brackets will have grown by 288% since 2021 and 1,346% cumulatively since 2010.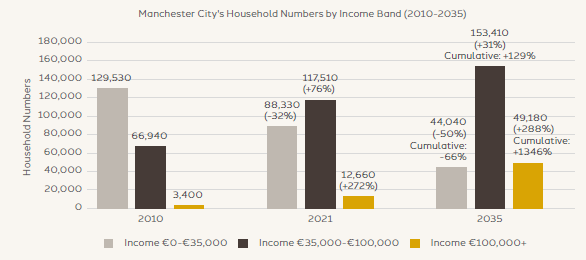 Housing Market
Despite the considerable progress in construction activity, the housing supply has been unsuccessful in meeting demand. Since 2011, 37,460 units were added to the housing stock, which totalled 455,015 units as of 2020. As a result, there is a substantial undersupply of homes, with just 34% of the city's housing needs fulfilled over the past 9 years.
It is expected that 5,545 housing units will be completed per year between 2020 and 2031, below the average annual housing requirement of 6,515 units. By 2031, an undersupply of at least 82,505 housing units is anticipated, taking the previous backlog into account.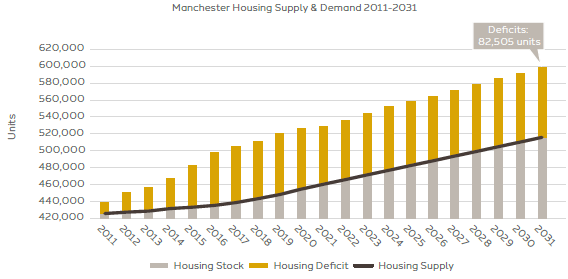 Due to a consistently undersupplied housing market combined with substantial economic growth, house prices have increased by 82% over the past 10 years, compared to the national average of 53%. House prices are further forecast to grow 23.5% between 2020 and 2026, despite the implications of Brexit and COVID-19.
Manchester city's rent has increased by 21% over the last 5 years, compared to the broader North West region at 11% and England at 7%. Between 2022 and 2026, rents in Manchester City are expected to increase by a further 15%, surpassing the national average of 10% over the same period.
What does this mean for investors?
A healthy population growth rate coupled with an undersupplied housing market have made Manchester an ideal opportunity for investment -but not all investments are made equal. Speak to a Wealth Manager at IP Global about the other factors to look for before purchasing a property in Manchester. Or take a look at our opportunities that have been through rigorous due diligence to meet the standards IP Global sets in order to invest our own funds alongside our clients in Manchester.