Manchester has long been famous for its rich history and title as World's First Industrial City. In recent years it has diversified into a modern metropolis with a thriving cultural and leisure scene, as well as first class employment opportunities.
We asked our Global Accounts Director about his recent trip to Manchester having grown up nearby and seen it reinvent itself into a future-oriented Northern Powerhouse. Take a look at his insights below.
1. What's been your experience of Manchester and where would you live today?
Manchester has always held very fond memories for me, as I grew up in Lancashire and spent many weekends heading to the city to go shopping with my family or to meet up with friends. So, when I visited Manchester whilst on site visits for IP Global, and what must have been 15 years since last being there, I was absolutely stunned by the change and development of what was already a great city. It truly is a fantastic place and what a location to live in and be a part of this vibrant northern cosmopolitan city.
Many people ask where to buy in Manchester, which is of course quite a personal decision as it does depend on what you are looking for. However, when asked the question myself, where would I live in Manchester today, I certainly have some good ideas as to where that would be.
In short, if I were to live in Manchester today, then I would say that it would most likely be just on the outskirts of the city centre such as Salford Quays. This is not only a highly sought-after location but has the buzz and vibrance of a very cool place to live. Right by the water edge of the quays and with MediaCityUK being located here, it has so much to offer.
With over £650 million of investment to date and a further £1 billion of private investment into the area, it has so much scope for incredible growth. Being right in the heart of things and having businesses such as the BBC, ITV Studios and SIS Live being based here, it will always be a draw for the creative and professional investors. It has a plethora of shops, restaurants, bars and gyms that one could spend every weekend exploring new places and still be uncovering new and upcoming locations to visit for years to come.
2. Where would you buy property in Manchester if you had children?
Now if parents were to ask me where to live in Manchester, then this answer is once again a very personal one but a clear winner for me would be Altringham. What was once a slightly dilapidated part of Manchester, has now become one of the most up-market places to live in the area. Not only has it had a complete rejuvenation of its high street but it also boasts some excellent schools locally and has great access into the city. With lots of top restaurants, bars and shops, this will appeal to most families.
3. Where would you live in Manchester if you were a student?
This wonderful city has the second highest absolute number of students, just behind London, so is particularly well catered for this type of market. Students have an abundance of choice when it comes to looking for great locations to live in Manchester. The first that springs to mind for me would be Chorlton-on-Medlock which is just South of the city center and has a huge array of student accommodation options and having great access to the various university campuses along with being in close proximity to the city center and all that it has to offer, it seems like a great choice. Prices are much more affordable than the city center also, which will allow students to get 'more bang for their buck', which is quite often a big factor for students to consider.
4. Finally, which locations in Manchester offer the best investment potential?
As an investor, I would have to say that both Salford Quays and Chorlton-on-Medlock would be good options due to the high demand for property there but one that stands above the rest for me is Trafford. The home of Manchester United of course but also is the region's largest hub of businesses and enterprises with the highest number of companies per capita. There is also a burgeoning bar and food scene, where many young professionals congregate after a day's work.
The connectivity of Trafford is excellent and with Manchester airport only 10-minutes' drive away, it will have appeal to the local and international market. Locally, it is well connected through extensive rail networks and light rail tram systems which will soon connect to the High Speed 2 (HS2) rail network.
With strong rental yields on offer and healthy capital appreciation to be had, this would be my choice for investment into the northern powerhouse that is Manchester.
Although, quite a 'whistle stop' tour of the city and the area, I was once again so pleased to be back in Manchester, which continues to grow, develop and adapt to the ever-changing world we find ourselves in today. I can't wait to visit again.
There are 3 underlying economic fundamentals that make a strong investment case for residential real estate. A city with an expanding population, a strong GDP and rising salaries as well as a shortage of appropriate housing will naturally put pressure on the housing market, causing prices and rents to rise. Let's take a look at some of the latest statistics compiled by Oxford Economics, ONS and JLL that make Manchester's investment case strong for 2022.
Manchester Overview
Greater Manchester is a metropolitan county in North West England and is home to 2,854,540 people. It includes ten metropolitan boroughs: Bolton, Bury, Oldham, Rochdale, Stockport, Tameside, Trafford, Wigan, and the cities of Salford and Manchester. It is one of the country's largest metropolitan regions, and the second-most populous area in England, outside of London as of 2021.
Due to its large population, Greater Manchester is one of the most economically diverse regions in the UK and is one of the main drivers of the northern economy. At present, there are approximately 1.4 million jobs that contribute towards Greater Manchester's GVA of GBP67.2 billion (2021). The Greater Manchester area generates nearly 40% of total output (GVA) in the North West and 19% across the North of England. Manchester, Salford and Trafford have seen the largest growth over the last 21 years, contributing 56% of Greater Manchester's GVA in 2021.
Demographics
Manchester underwent a significant transformation during the Industrial Revolution, attracting entrepreneurs and manufacturers in abundance. The population grew consistently year-on-year until the 1960s, when a number of manufacturing jobs began moving to countries with significantly lower costs. This ushered in a period of economic decline and depopulation for Manchester.
The trend persisted until the early 2000s, when a combination of natural population growth and inward migration (as a result of renewed economic growth), saw the number of residents in the area begin to rise once again. Manchester's working population has increased by 25% in the last 20 years, compared to the UK national average of 11%. Manchester City is currently the 5th most populous city in the UK, registering 558,840 residents as of 2021. Combined with Trafford and Salford, the total population for the area is expected to reach more than 1,154,970 by 2035, a 36% increase since 2000.

Economy
As a result of successful economic initiatives such as the Northern Powerhouse project, Manchester's GVA has grown by 63% since 2000, totalling GBP41.3 billion as of 2021. Following a small dip in 2021 due to the global pandemic, the economy is expected to produce GBP55.6 billion per annum by 2035. At the same time, average GVA per capita has risen 31% since 2000 and is expected to increase by a further 24%, reaching GBP48,111 by 2035.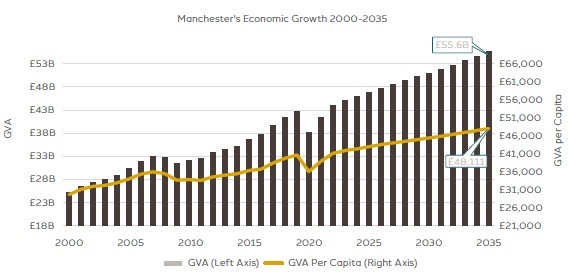 Employment & Incomes
The city of Manchester is the economic hub of the Northern Powerhouse. Residents have therefore experienced significant wealth gains, with average household disposable incomes increasing by 92% between 2001 and 2021. This trend is expected to continue, with households seeing a further 51% gain over the next 14 years.
The number of households in the city earning less than EUR35,000 per year is declining at a rapid rate. At the same time, the number of households entering the middle-and-upper-income bands is rising dramatically. By 2035, the number of households in the higher income brackets will have grown by 288% since 2021 and 1,346% cumulatively since 2010.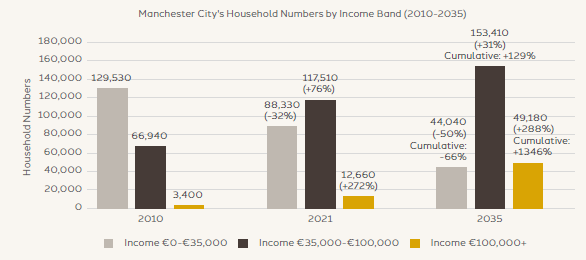 Housing Market
Despite the considerable progress in construction activity, the housing supply has been unsuccessful in meeting demand. Since 2011, 37,460 units were added to the housing stock, which totalled 455,015 units as of 2020. As a result, there is a substantial undersupply of homes, with just 34% of the city's housing needs fulfilled over the past 9 years.
It is expected that 5,545 housing units will be completed per year between 2020 and 2031, below the average annual housing requirement of 6,515 units. By 2031, an undersupply of at least 82,505 housing units is anticipated, taking the previous backlog into account.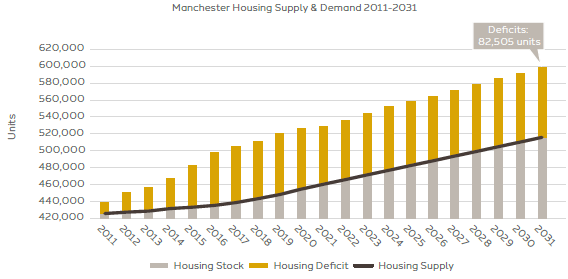 Due to a consistently undersupplied housing market combined with substantial economic growth, house prices have increased by 82% over the past 10 years, compared to the national average of 53%. House prices are further forecast to grow 23.5% between 2020 and 2026, despite the implications of Brexit and COVID-19.
Manchester city's rent has increased by 21% over the last 5 years, compared to the broader North West region at 11% and England at 7%. Between 2022 and 2026, rents in Manchester City are expected to increase by a further 15%, surpassing the national average of 10% over the same period.
What does this mean for investors?
A healthy population growth rate coupled with an undersupplied housing market have made Manchester an ideal opportunity for investment -but not all investments are made equal. Speak to a Wealth Manager at IP Global about the other factors to look for before purchasing a property in Manchester. Or take a look at our opportunities that have been through rigorous due diligence to meet the standards IP Global sets in order to invest our own funds alongside our clients in Manchester.
High Speed 2 (HS2) is the largest infrastructure project in Europe and will form the backbone of the UK's transport network, connecting eight out of ten of the UK's largest cities, as outlined in the HS2 – Our Story and Key Facts publication.
Manchester, through both times of political stability and uncertainty, has proven itself to be a property market capable of maintaining the interest of property investors globally.
With its impressive business credentials, booming young population, rich culture and sporting industries, as well as growing art and culinary scenes, the city is drawing in large numbers of residents. Property prices across the city region continue to rise and Manchester's economic growth is now on par with the top-performing European cities, making the city also a top contender for investment.
AN ATTRACTIVE DESTINATION FOR WELL-EDUCATED RESIDENTS
Outperforming London, Manchester has once again been named the most liveable city in the UK, an accolade the city has held every year since the Economist Intelligence Unit began its Liveability Survey in 2011. The report ranks 140 of the world's largest cities on numbers factors, including infrastructure, culture, environment and education.
The survey highlights Manchester's continued appeal as a place to live and work. The population continues to grow, especially among young professionals. Recent figures published by JLL revel that there was a 117% rise in people moving to Manchester's city centre in July of this year compared to July 2018.
Since 2015, Manchester's population has grown by almost 6% (from 539,600 to 572,000). The city has one of the UK's highest university retention rates, with 70% of graduates electing to remain in the city following the conclusion of their studies. Manchester's combination of a wide range of employment opportunities and an affordable cost of living, not to mention its enticing blend of urban amenities and great countryside break opportunities, attract a diverse mix of people. Highly educated and culturally varied, these new residents bring an exciting energy to the city and consistent housing demand.
AN ACTIVE AND DIVERSIFIED ECONOMY
While manufacturing is still a prominent industry in Manchester, the city has been working hard to move into knowledge-intensive industries. It is now recognised as a major hub for the digital economy, with over a fifth of the population now employed in the financial, professional and scientific sector and an expected 10,000 new offices jobs are expected to be created by 2021.
Greater Manchester's regional economy is estimated to be around GBP 85.3 billion. This makes its economy larger than that of Slovakia, Slovenia, Croatia and Luxembourg among others when gross domestic product is measured. Further to this, the region's GDP per capita, that is its financial output per worker, is higher than that of Portugal, Poland and Hungary.
Manchester's attractiveness has remained unmatched for investment, keeping its title as the UK's number one destination for foreign direct investment (FDI) outside of London. The city had 37 FDI projects recorded across 2018, in comparison Birmingham had just 22.
SUSTAINED HOUSING DEMAND AND UNDER-SUPPLY
While a recent increase in development has gone a long way in helping to bridge the gap between demand and supply, the need for housing and new developments is likely to continue into the future, partly as a result of the city's sustained population growth, with the city's population set to reach 644,100 by 2025.
Hometrack reports that the average price of a property in Manchester has risen 1.83% between May 2018 – May 2019. Lets agreed rose by 103% over the same period, as the city's strong rental demand from the high number of young professionals living in the area and ensured Manchester remains a hotspot for property investors.
As more business move to the city, with major telecommunications brand TalkTalk the latest to relocate to Manchester, it is expected that more people will move to the city in pursuit of their careers and a strong work-life balance, which offers a great opportunity to savvy property investors looking for long term growth.
How do you know which markets are worth investing in?
We hear this question often and wish there was a simple response. Unfortunately, that's not the case. When our team of investment experts reviews global markets, there are all sorts of factors that contribute to their evaluation; population growth, infrastructure, and current levels of housing demand are just a few of the key points they research. One must also bear in mind that markets need to be reassessed each year, as they are constantly changing.
It is this careful process which makes it all the more thrilling when we encounter a new market that holds great potential for our clients. This year we're very excited to expand our Greater Manchester offerings, a region that continues to go from strength to strength.
In recent years we've seen impressive development across Greater Manchester, demonstrated most simply by the 1.7% GVA growth per annum forecast for 2017-2035. Increasing levels of investment, thriving economic growth, and a vibrant cultural scene make this region one which property investors cannot ignore. Forecasts for the region's property market are strong, with population growth and regeneration initiatives driving prices upward – alongside a demand which is relentlessly increasing.
It is these facts that make the county, including the cities of Manchester and Salford - as well as smaller, developing towns such as Stockport and Altrincham - a key region within our 2019 UK investment strategy.
A promising investment case on all fronts
Population Growth
A leading destination for international business, with a thriving population of 2.8 million, Greater Manchester continues to attract new residents. Already the second most populated urban area in the UK after London, Greater Manchester is projected to grow by an additional 8% between 2019-2035, to realize a population of over 3 million.
Over 100,000 students attend Greater Manchester's four universities each year, making the region home to one of Europe's largest student populations. The area also has one of the UK's highest retention rates for students, outside of London, contributing greatly to the workforce within the Northern Powerhouse area, which is on track to hit 1.4% employment growth per annum between 2019-2023.
The growing number of young residents, combined with the quality of the area's higher education institutes, led to Manchester becoming the first UK city to be shortlisted for the award of European Youth Capital, in 2018. This vast University talent pool has also proven to be a major pull factor for international companies looking to expand in the UK.
Foreign Investment
Ranked 6th globally for FDI (foreign direct investment), in the last year alone numerous new businesses have been attracted to the Manchester city region - including Amazon, GCHQ, and Jaguar Land Rover. Amazon has selected Manchester as the location for its first major UK hub outside of London, taking over 90,000 square feet of office space and creating 600 jobs.
Booking Holdings, the technology company behind the hotel website Booking.com, has also recently focused in on Manchester, investing GBP 100 million and acquiring 220,000 square feet of offices. Commenting on the move, Ian Brown, CEO of Booking.com's transport division, said, 'We are committed to the city of Manchester and to its future as one of Europe's largest and most important tech hubs.'
Improving Transportation Infrastructure
Greater Manchester has recently been ranked 7th globally for connectivity in the Financial Times' FDI Global Cities of the Future 2018/19 report. Graded on both local and international travel connectivity, as well as the overall quality of infrastructure, the area's recent developments make the ranking well-deserved.
Manchester Airport, the UK's largest regional airport, handles over 22 million passengers a year and offers direct flights to international destinations including New York, Paris and Qatar. The region recently secured a direct air route to India and 2018 marked the second anniversary of a direct Beijing air route, which has already increased export sales from Manchester to China by 41%, up to GBP 1.29 billion.
Given the rapid rate of population growth, the government has prioritized improving the county's transportation infrastructure. Currently, more than 5.6 million journeys are made across Greater Manchester's transport network each day and this number is only expected to increase. An impressive 2040 Transport Strategy was established in 2015 to help manage the region's growth. Improvements to the Manchester Metrolink, the largest transport network in the UK, as well as bus routes and road repairs, have been outlined.
Regeneration
Greater Manchester sits at the core of the GBP 7 billion Northern Powerhouse initiative, announced in December 2014. Aimed at drawing attention to the north of England and boosting local economies, this project is focused on business, cultural, and infrastructure developments. The plan has specifically allocated GBP 98 million in funding for cultural and leisure aspects in Manchester and GBP 3 million for housing within the city.
Following the announcement of the Northern Powerhouse initiative, impressive growth has been seen within Manchester. The city's NOMA area is undergoing a complete renovation, using GBP 800 million in funding to create 2.5 million square feet of office space, 1,158 new homes and 400,000 square feet of shopping and leisure facilities. The city will also unveil the Manchester Metropolitan University School of Digital Arts (SODA) in 2021. The university has received a GBP 35 million investment to realise the innovative school, set to accommodate 1,500 students each year.
Housing supply and demand
As Greater Manchester continues to grow and welcome new residents, the area's housing market has struggled to keep pace with demand. This has led to an undersupplied market and rising sales and rental prices.
The GMCA 2018 Greater Manchester Spatial Framework outlines that the county requires a minimum of 201,000 net additional homes be developed from 2018-2037, to match the area's demand. This twenty-year target requires an average of 11,360 new homes per year. GMCA, however, has reported that since 2008, only approximately 3,000 new homes have been built every year in Greater Manchester, resulting in a shortfall of more than 8,000 units.
In reaction to this undersupply, we've seen prices across the county rise significantly. Between January 2012 - October 2018 the cost of flats in the county increased from an average price of GBP 99,299 to GBP 144,293.
Within this booming Northern Powerhouse region there are two towns in particular that IP Global sees significant growth potential in.
Which Greater Manchester markets deserve a closer look?
Altrincham
Altrincham is a modern market town with a thriving business community. Attracting some of the highest property prices outside of London, the town is an established area for residential investment. Significant public and private funding have enhanced the area in recent years, with a new general hospital, large retail outlets, and a multi-screen cinema being realized.
Known for its affluence and younger demographic than the rest of Trafford, recent developments are also helping entice new residents. In 2018, Altrincham was ranked as the best regional place to livein the UK.
GBP 22.4 million has been invested to realise a new leisure centre, greatly benefiting the community. The Trafford Council has also established a programme to offer small business loans of up to GBP 200,000, to help reinvigorate entrepreneurship.
Altrincham's redevelopment efforts were celebrated in 2018 when the town was named England's best high street.
In 2014 a GBP 19 million investment in infrastructure regeneration helped ensure the town is easily accessed by public transport.
Stockport
Stockport, a town located in the south of Greater Manchester, is one of the region's most prosperous boroughs. It has a GBP 6.4 billion economy, over 11,660 operating businesses and a growing population of 289,000. Positioned only 11 km south of Manchester's city centre, the town's investment appeal is continually increasing. Stockport offers a high quality of life and excellent connectivity both with the rest of Greater Manchester and other regions and significant inflows of government funding are only adding to its established status and reshaping the town.
Stockport currently has GBP 1 billion in regeneration initiatives reshaping its infrastructure and town centre, adding 5,000 new jobs and 1,100 new homes.
The town affords remarkably accessible prices when compared to the rest of the county – Stockport's average flat costs GBP 159,000 compared to the county's average of GBP 173,000, equating to a 9% savings.
From 2011 to 2018, the average price of flats and maisonettes in Stockport rose 41.5%.
Salford
Located adjacent to Manchester's city centre and home to a population of 251,300, Salford is a major city in the North West. Connected by exceptional road and rail networks, Salford's population and investment appeal continue to grow. Since 2001 the city has seen a 15% increase in population and in 2018 alone there was a 6.4% increase in employment, drawing students and young professionals who require the convenience of a central, vibrant location at a lower price point than Manchester city centre.
Salford's present housing supply is unable to match the city's growing demand. 34,900 new homes are needed by 2035 but between 2011-2015 only 600 new dwellings were delivered per year, falling 1,145 short of the targeted annual amount.
House prices in Salford remain competitive while experiencing significant growth. Apartments in the city are currently 18.5% more affordable than the Manchester average and 32.3% below the Trafford average.
The Salford Investment Strategy estimates that between 2016-2026 the city will see GBP3.8 billion in investment.
The city's overall GVA is forecast to increase 52.9% by 2036.
Some of the UK's largest employers are moving operations north to Manchester, bolstering the city's economy and helping to establish exciting new employment hubs.
Business is booming in Manchester. The economy is growing rapidly, with the business, financial, creative, digital, research and development sectors leading the charge.
Large multinational businesses headquartered in the UK such as Barclays Bank and law firm Freshfields have been at the forefront of the UK's 'Northshoring' movement, with both choosing Manchester as a regional hub. According to the Official Labour Market Statistics, 96,300 people are employed in banking, finance, and insurance in Manchester. The city also boasts the highest number of digital-sector jobs outside London and is home to Europe's second-largest cluster of creative and media businesses – the BBC moved there in 2011. One of the UK's most innovative medical research facilities, the GBP28.5 million Cancer Research Centre, is also located in Manchester while diagnostics company Qiagen, which specializes in molecular research, plans to build a genomics and diagnostics campus there.
Due to substantial population and employment growth, Manchester's core urban area grew on average seven times faster compared to other central metropolitan areas of the UK's biggest cities. The city now has a larger economy than that of Wales or Northern Ireland and growth is not looking to stop there. It is predicted that 55,000 new jobs will be created before 2025, adding GBP19 billion to the Total Gross Value in the economy and increasing disposable income by 28%. Employment growth in the city is expected to exceed many international capitals, including Paris, Berlin, and Tokyo, according to predictions by Oxford University economists, and Manchester's GVA is forecast to grow to GBP73 billion by 2024.
Manchester's economy as a whole is growing, but there are areas of the city that are hives of business activity and are establishing themselves as Manchester's key employment hubs
Manchester city centre
Manchester is known as one of the best places to shop in the UK, and its city centre is a destination for the shopping madness. However, it is also home to a thriving business district that is supporting the growing demand from both British and international businesses who are looking to relocate or open regional hubs.
One of Manchester city centre's notable business areas is Spinningfields, dubbed the "Canary Wharf of the North". Spinningfields is a GBP1.6 billion estate featuring several developments and towers where PwC, Bank of New York Mellon, Barclays, Pinsent Masons and the Royal Bank of Scotland all have office space.
Manchester has seen significant investment and redevelopment in the city centre, including the GBP185 million revamp of St Peter's Square, where there are a number of refurbished Grade II listed buildings including the Central Library and Manchester Town Hall. This is also the location of One St Peter's Square, a GBP65 million, a 14-storey building where professional services firm KPMG and law firm DLA Piper has offices, and Two St. Peter's Square, a GBP80 million development where Ernst & Young has taken up space.
Salford Quays
Situated on the banks of the Manchester Ship Canal, on the site of the former Manchester Docks, urban regeneration project Salford Quays has a regional GVA of almost GBP1 billion and constitutes more than one-fifth of Salford's overall economy with around 749 businesses operating in the area employing more than 25,000 people.
The Quays is home to The Lowry arts centre, which houses theatres, studio space, and a gallery, as well as cafes, bars and a restaurant; and the Imperial War Museum North, where an extensive collection of historical artefacts from 20th-century wars is on display. The area's retail venues attract more than 4.3 million visitors per year, a 6% growth in the past four years, with shoppers contributing GBP400 million to the local economy.
MediaCityUK
Located within Salford Quays, this waterfront mixed-use development, built on brownfield land on Pier 9 of the Quays, is a centre of digital industry, learning and leisure. A number of media organisations can be found here, including the BBC North and ITV. The University of Salford and medical insurance company Bupa also work out of MediaCityUK, alongside more than 250 innovation businesses, which employ 7,000 people, including 2,700 at the BBC alone.
Set to double in size by 2026, after the local council approved plans for a GBP1 billion expansion, the agreed expansion will include new television and production studios, shops, offices, a hotel complex and more than 1,400 homes. This expansion will cater to the television production companies priced out of London and the southeast while also contributing to the development of the north of England as a media hotspot.
Trafford Park
Opposite Salford Quays, on the other side of the Manchester Ship Canal, Trafford Park is a business park and industrial estate which was the first planned industrial estate in the world, established soon after the site was sold to financier Ernest Terah Hooley in 1896. As a business park, it peaked in 1945, when an estimated 75,000 workers were employed. Sadly it went into decline in the 1960s and 1970s, and its industry had almost disappeared by the 1980s. Plans to reverse the fortunes of Trafford Park were afoot in 1987 and by 2008 there were 1,400 companies employing 35,000 people in the estate. Close to 40,000 people are employed at Trafford Park today and it is the largest industrial estate in Europe with 1,300 companies operating there, including a number of global brands such as Kellogg's, Unilever, L'Oreal, Adidas, Procter & Gamble, Amazon and Manchester United Football Club. It is also home to the Intu Trafford Centre, an indoor shopping and leisure complex that is the UK's second-largest shopping centre by retail size.
Trafford Park is located just 3.5 miles from Manchester city centre, and works are currently underway on the new GBP350 million, six-stop MetroLink tram line. This will boost public transport connections to the more than 1,300 businesses at Trafford Park and Intu Trafford Centre. The new Trafford Park line is set to open in 2019.